'Need'? Well, not exactly necessary for some. Nice to have perhaps? A requirement for others? For sure!
For those who are unsure, the benefits can be found without waiting to be emotionally or mentally overwhelmed. Yet most do exactly that!
You can benefit from counselling guidance and coaching regardless of your emotional stability at any given time. To be listened to, in a private and confidential setting, by someone who is impartial, yet skilled as a professional listener (it's harder than you think to really listen!) and who will leave judgements outside of your session opens up all kinds of possibilities to unpack and discover a journey into the real you and, if something in your life can be improved upon, to provide a strategy for this.
We behave outside of the counselling environment in a 'conditioned' way. We perform to societal expectations and to those of our peers, family, work colleagues, customers or whomever we serve and this, as we get older, really can interfere with an understanding about who 'we' really are, what our values might be and how we want to live.
For most, when considering counselling, it is seen as the first step to admitting failure in some way and likely as not that a hospital admission will be next!
[bctt tweet="Neither of these scenarios is even remotely close to reality! #counseling #counselling #support" username="BobBrotchie"]
The successful (whatever that really is) and rich and famous appear much more readily accepting of engaging the ear of someone quite frankly 'they' could care less about. Yet 'they' are no more important than anyone else on the planet.
To state the obvious, yet frequently forgotten, we are all human spirits with minds and bodies of flesh and blood. We are all, without exception, born, we exist and then die.
---
"Important as the birth and death are, we can do something about the middle." – Bob Brotchie
I like that so much, I'm going to write it again…
"Important as the birth and death are, we can only do something about the middle."
---
Ask yourself:
Am I happy, fulfilled, and have no concerns?
Do I live in the here and now, or in the past or future?
Am I all that I can be?
Do I know who I am?
Am I content?
You may be struggling to sleep well – counselling can help a lot with that! You may be anxious – Yep – can help with this!
Past traumatic experience, relationship problems, workplace issues, low self esteem, low moods or depression, sexual dysfunction or sexuality issues, communications, performance, abuse (as an abuser or abused), relaxation, pressure of work and/or life, addictive behaviours, weight gain or loss…
So you can see some challengers here that you will recognise, either from your own experiences or of someone you know or love. Some are more serious than others, but all have the potential to be improved upon with guidance, compassion, counsel, and coaching.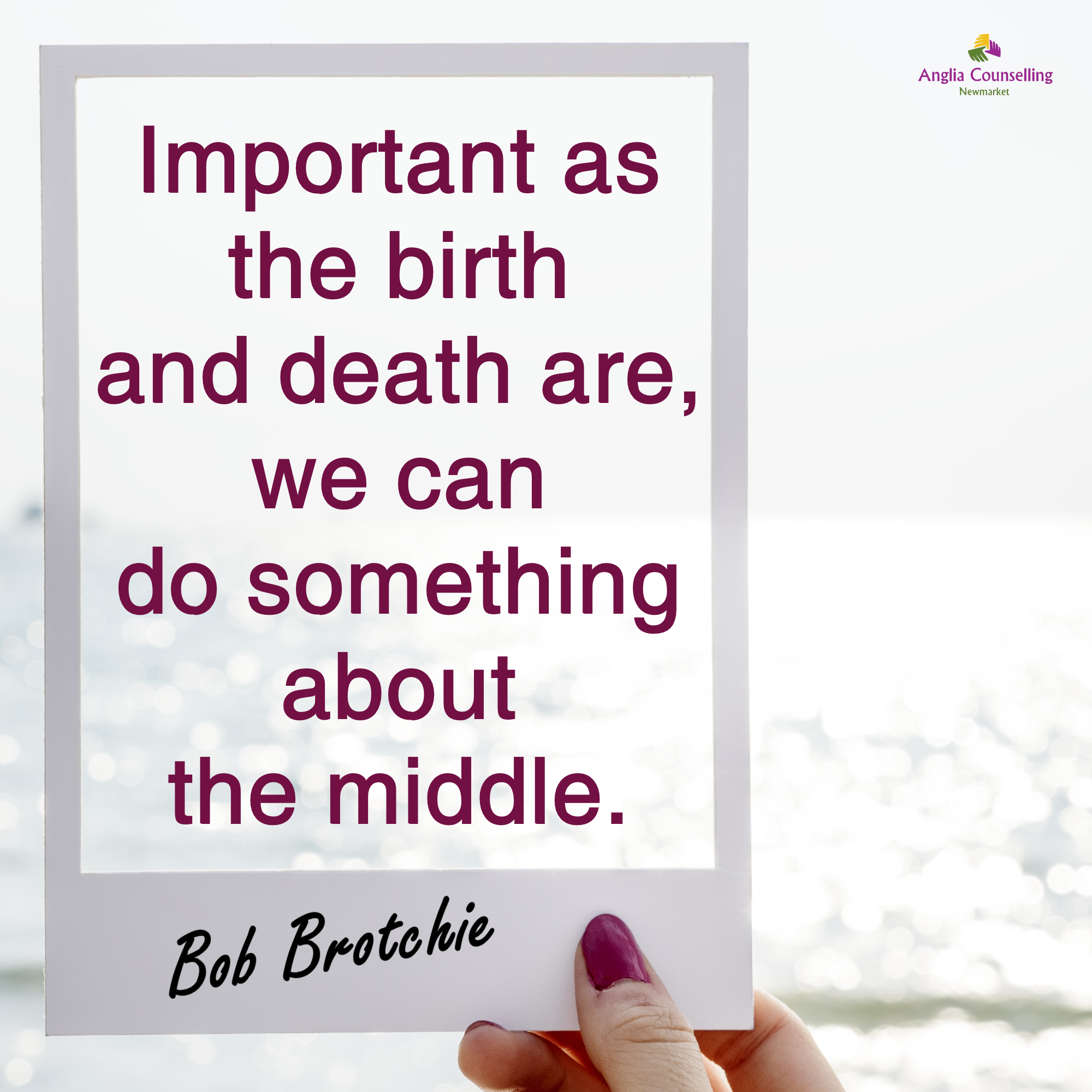 Bob Brotchie is a counsellor, life coach and creator of Conscious Living by Design™. He writes for Anglia Counselling, is featured on various other websites and introduces us to many guest writers all covering topics related to mental health and wellbeing.
Bob provides bespoke counselling services to clients in the privacy and comfort of a truly welcoming environment at his Anglia Counselling company office, located near Newmarket in Suffolk, England. Bob also provides professional online counselling, for local, national, and international clients. The therapeutic models offered are bespoke to the client's needs, especially those in receipt of 'childhood emotional neglect' (CEN), whilst integrating a mindful approach to psychotherapy and cognitive behaviour therapy (CBT) principles. For clients experiencing trauma and/or phobia, Bob offers EMDR (Eye Movement Desensitisation and Reprocessing).