Succeeding in working with people to understand themselves better, and letting them find their best resources to overcome difficulties is core because clients and their challenges rightly demand this – and a sustainable strategy for life.
You will find a therapist possessing an excellent reputation and professional background.
I demonstrate how I understand!
Importantly, and without the 'guff', you will recognise the 'lived experience' I understand, AND, that I really am able to empathise with so many of the challenges clients present with. I can most often 'see' through their eyes, and so, may feel what they feel. Most prefer this knowledge compared to the sometimes 'cold' academic, lacking 'real-life' exposure. Furthermore, you will find I engage – and I'm very proactive. No long uncomfortable silences here; I will 'drive' meetings if required until you are in a position of knowledge, trust and comfort to do so.
Drag image below to view my office.
Training and Awards
Having re-trained, my earlier professional background involves almost two decades serving as an award-winning senior emergency paramedic, and innovator. Much of a paramedic's emergency work involves being with those suffering chronic and acute psychological and psychiatric events. As such, in this honoured profession, I was privileged to bear witness and assist in the happiest – and the most traumatic of times. These experiences have provided me with a wonderful insight for those I will meet today, along with the following training and awards:
Counselling & Psychotherapy
Cognitive Behaviour Therapy (CBT) Diploma (SAC Dip) (Distinction)
The Human Toolbox Program Practitioner Training
Working with Children and Young People Who Express Suicidal Feelings
The Rewind Technique (cPTSD, PTSD, OCD)
Counselling Couples Toolkit
How to Lift Low Self Esteem in Your Clients
Uncommon Psychotherapy
Mindfulness Practitioner (Level 1, 2, 3 and Master)
Certified Life Coach
Eye Movement Desensitisation and Reprocessing (EMDR) Diploma (Dip EMDR) (Distinction)
Working with Narcissism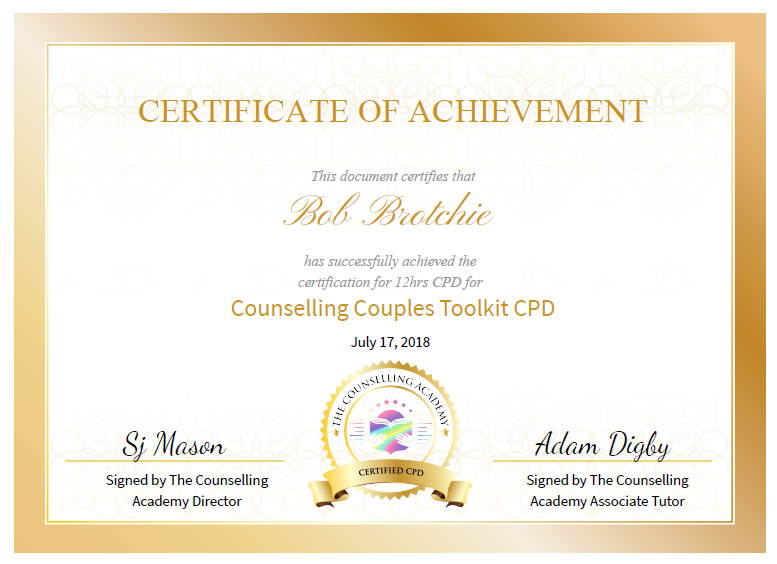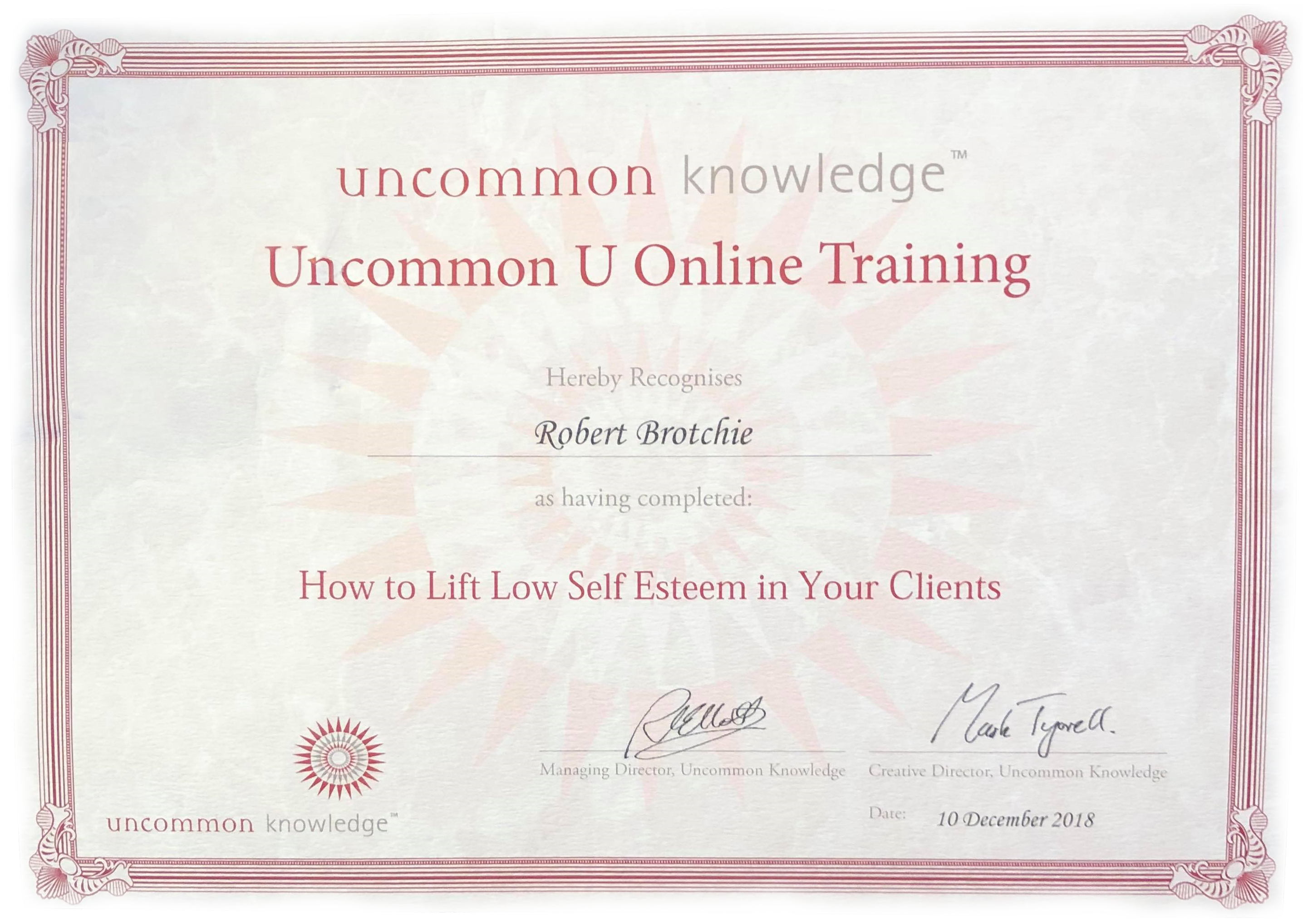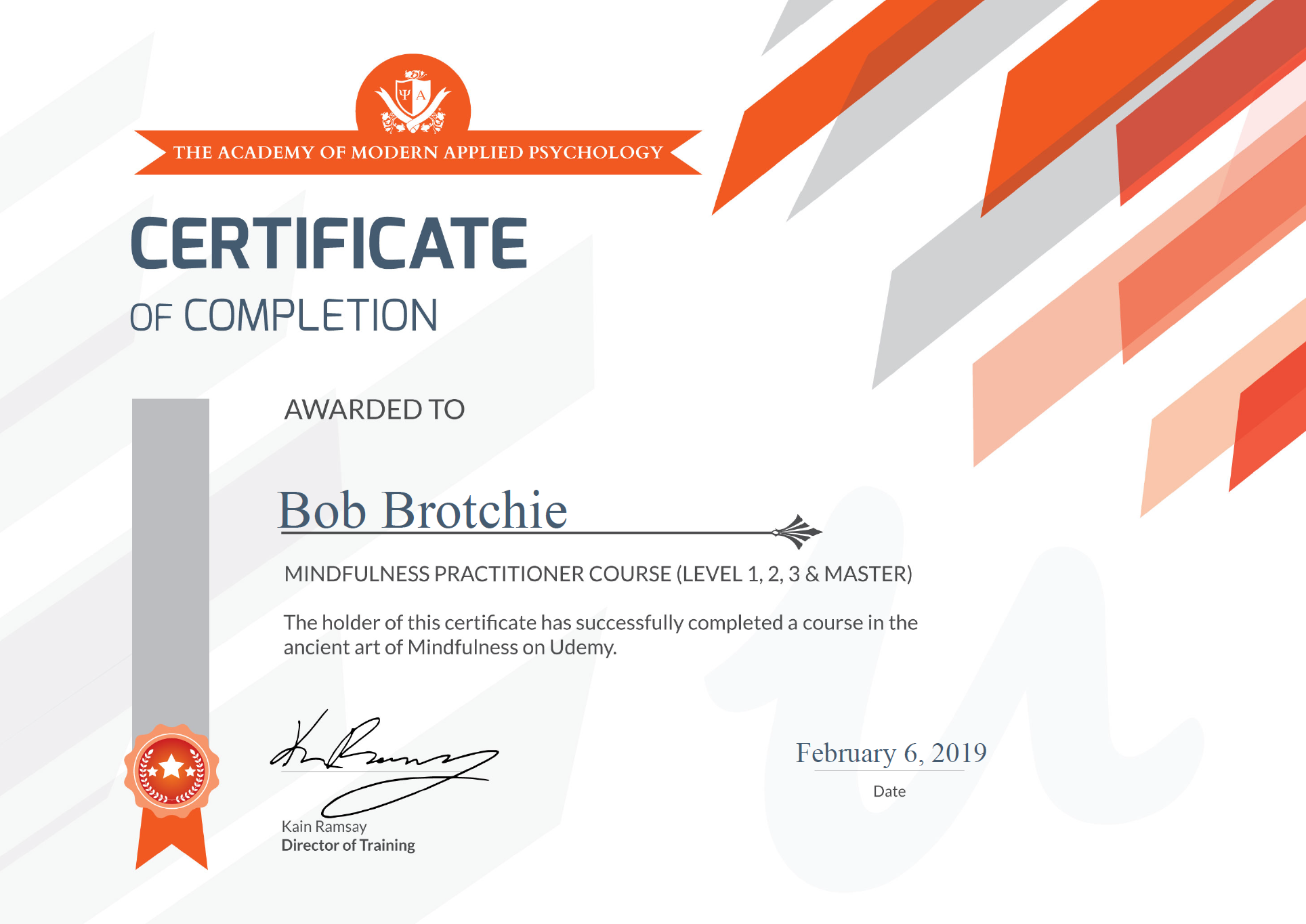 Bob Brotchie - The Human Toolbox
Bob Brotchie - Counselling and Psychotherapy
Bob Brotchie - CBT Diploma
Bob Brotchie - The Human Toolbox Program
Bob Brotchie - Working with Children and Young People Who Express Suicidal Feelings
Bob Brotchie - The Rewind Technique
Bob Brotchie - Counselling Couples Toolkit CPD
Bob Brotchie - How to Lift Low Self Esteem in Your Clients
Bob Brotchie - Uncommon Psychotherapy
Mindfulness Practitioner Course Level 1, 2, 3 and Master
Bob Brotchie - Certified Life Coach
Bob Brotchie EMDR Certificate
Who do I work with?
Person-centred counsel, to those aged 15 and over, to empower and inspire individuals to take back control of perhaps less than helpful cognitive behaviours,  negative thoughts and low esteem, depression, stress, and anxieties in their various forms, and now those who with or without formal diagnosis, individuals with traits commonly associated with Attention Deficit Hyperactivity Disorder (ADHD), or those without the 'Hyperactivity' (ADD). I also have a decade of experience working with couples and the family relationships.
I am committed to providing quality and value that will be bespoke to you. Unique, and without discrimination, I deliver results whilst maintaining confidentially, ethically, to a diverse client list and work to best practices frameworks endorsed by the 'industry's governing organisations such as the British Association for Counselling and Psychotherapy (BACP).
What safeguards are in place?
For your reassurance, I've put the following in place:
Would you like to book an appointment?
These can be arranged between 11 am and 6 pm from Monday to Thursday. (Requests for appointments outside these days and times may be facilitated by Penni, my associate therapist.)
Do you have unanswered questions?
Call me on 07747 042899 or send an email to [email protected] and I'll always reply in the shortest time possible.