You Are as Worthy as You Choose to Be!
A trait most commonly observed in the therapy room is low self-esteem. As a professional 'observer', I also see this in the wider world too. Celebrities, wealthy individuals and those who to the untrained eye, "have it all" are actually often seen to be in great distress. I have never been a celebrity or had the burden of wealth, but I too was one who others shared their thoughts – "I wish I could be in his shoes!"
It's easy to believe the stories our mind tells us. Listening to the repetitive inner-dialogue, demeaning ourselves with harsh judgements about how we could never be happy like them, we could never have 'that'. But just how true are these thoughts?
The Truth
You deserve the truth, because you are important AND worthy! In fact, there is NO-ONE on the planet more or less important than YOU!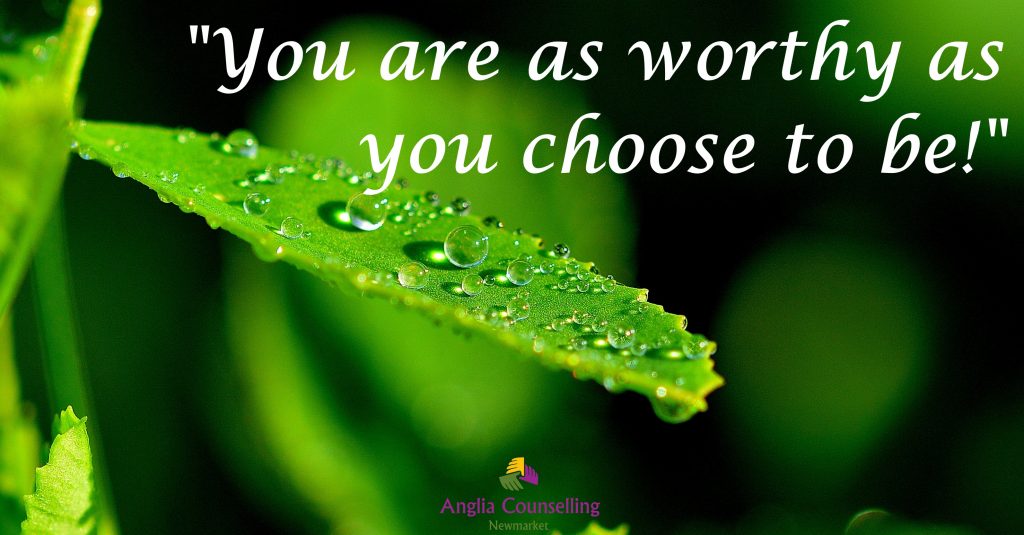 What about the Heads of State?
…the neurosurgeon, the head of the multinational corporations? They are important in context to a position, economic, political and societal hierarchy, but are 'they' really any more important than any other human-being? After all, each and every one of us has been born and will die. Hierarchy and position, wealth or status, dying has no respect for that!
Who are you?
Just asking a client with diminished self-esteem to look in the mirror usually causes some alarm. "What? I don't think I'd like to do that" they say. But here's the thing. If the boss of Shell Petroleum sees them-self as THAT position when he/she looks in the mirror, what happens when they get fired?
When I ask individuals to look, really look into their own eyes, those windows to the soul, you can begin the journey to coming home to yourself; heck, getting to understand just who you are, rather than what you have been given to believe.
It's Just a Mistake
But it's a really big mistake when we believe we are 'less than', and our cognitive minds do that… a lot! If you can begin to grow awareness of your thoughts – and subsequent feelings/emotions, that's important because then you can begin to become inquisitive and interested, you can challenge 'gently' whether what you are believing has any basis for truth.
Judgements and Choices
To help further with this, try to catch your thoughts judging others. Because, when we can reduce the amount of this unhelpful activity, we naturally start to judge ourselves less. Then we have greater awareness, are less judgemental – and are provided with opportunities to exercise choices about whether to accept the merry-go-round of negative beliefs about ourselves – and our lives to date.
Take a Compliment!
When I wrote earlier "you are important and worthy", did you feel awkward? A great tip for beginning the journey to regaining self-esteem is to accept a compliment! But first, you have to actually understand such a thing has been provided! They can come in all forms but often we are so unaware – and worse still, dismissive.
Whatever it Takes
Whether we need to forgive ourselves or others, or we need to learn to accept a compliment or, if we can begin to 'see' ourselves in the mirror – these are small but critical steps to returning to a place and position in our life where we can once again demonstrate and notice we are being the very best expression of ourselves. And that doesn't just serve us, it serves all those around us. Life can be good once more!
Please share the love – and your thoughts, because you are worthy.
Bob Brotchie is a counsellor, mindset consultant and creator of Conscious Living by Design™. He writes for Anglia Counselling, is featured on various other websites and introduces us to many guest writers all covering topics related to mental health and wellbeing.
Bob provides bespoke counselling services to clients in the privacy and comfort of a truly welcoming environment at his Anglia Counselling company office, located near Newmarket in Suffolk, England. Bob also provides professional online counselling, for local, national, and international clients. The therapeutic models offered are bespoke to the client's needs, especially those in receipt of 'childhood emotional neglect' (CEN), whilst integrating a mindful approach to psychotherapy and cognitive behaviour therapy (CBT) principles. For clients experiencing trauma and/or phobia, Bob offers EMDR (Eye Movement Desensitisation and Reprocessing).