On Tuesday 6th February I will be supporting Safer Internet Day 2018 by extending my my free and confidential Mental Health Guidance question & answer service to provide guidance on internet safety and wellbeing and sharing other resources around the related issues.
The theme for #SID2018 is Create, Connect and Share Respect: A better internet starts with you and will be celebrated globally and coordinated in the UK by the UK Safer Internet Centre. This campaign sees hundreds of schools and organisations joining together to raise awareness of online safety issues and run events and activities right across the UK. As a result of this collective action Safer Internet Day 2017 reached 3 million children and 2 million parents across the UK.
Join the campaign to make Safer Internet Day 2018 the biggest yet!
Schools, companies, police services, charities and other organisations across the UK are invited to get involved in the campaign to inspire the safe and positive use of technology. Last year over a thousand organisations supported the day, and you can now register as a Safer Internet Day 2018 supporter to share what you are doing to support the day.
The UK Safer Internet Centre has provided ideas for getting involved and over the coming months will be sharing a range of resources to help you get involved, including educational resources and films. Right now you can get involved by helping to spread the word to any schools and organisations who could get involved on the day.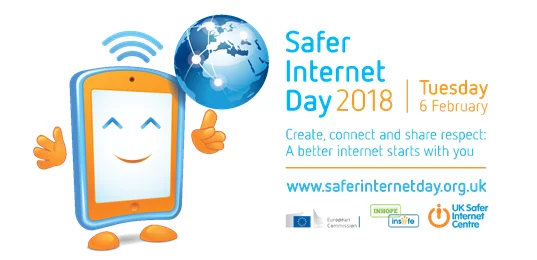 Plans for 6th February
On the day, the campaign will create a huge buzz right across the UK and globally! There will be national youth events, activities in schools across the UK, media coverage, a day of trending on social media, companies will spread the word to customers and employees, as we all aim to reach as many children and families across the UK as possible.
Together we can make a positive difference
As a result of hearing about Safer Internet Day 2017, an evaluation found that the majority of children spoke to their families about staying safe online while 79% felt more confident about what to do about any worries online. As a result of the day, 1 in 4 young people said they spoke up about something that had been worrying them online. Together we can make #SID2018 the biggest campaign yet and make a real difference to the digital lives of children right across the UK.
To find out more and get involved visit www.saferinternetday.org.uk #SID2018
Addendum: 2022 updated resource >> https://privacyhub.cyberghostvpn.com/privacyhub/internet-safety-for-kids-guide/
Bob Brotchie is a counsellor, mindset consultant and creator of Conscious Living by Design™. He writes for Anglia Counselling, is featured on various other websites and introduces us to many guest writers all covering topics related to mental health and wellbeing.
Bob provides bespoke counselling services to clients in the privacy and comfort of a truly welcoming environment at his Anglia Counselling company office, located near Newmarket in Suffolk, England. Bob also provides professional online counselling, for local, national, and international clients. The therapeutic models offered are bespoke to the client's needs, especially those in receipt of 'childhood emotional neglect' (CEN), whilst integrating a mindful approach to psychotherapy and cognitive behaviour therapy (CBT) principles. For clients experiencing trauma and/or phobia, Bob offers EMDR (Eye Movement Desensitisation and Reprocessing).