Does Social Media Help Bereavement?
Although this question could apply to any bereavement, I wanted to touch on something that has visited my life recently –  the death of a family pet.
*Caution – May contain triggering memories and emotions! (pets and bereavement)
Anecdotally, some of us appear more able to share via an update with our social media connections – the death of a much loved pet. Less so, in my experience, than the loss of a human individual – perhaps unsurprisingly. There are some wonderful examples of those who share blogs around how they are managing and adjusting to the change the death of a loved person brings.
I think my question is: Do you think if you were to share an update, such as this one (below), would it help you begin to find some lessening of the initial grief?
#RIP Our beautiful boy (Cat) pic.twitter.com/jG674Eks36

— Bob Brotchie (@BobBrotchie) October 29, 2013
Perhaps you think it isn't fair to share such personal sad news in a social media stream?
Is this too private to share?
Does anyone care?
Have you posted something similar and found it helped -or otherwise?
I have to say, this death of our lovely pet did hit us all very hard. He had a remarkable relationship with our 7 year old Son, Finn, that was a joy to watch!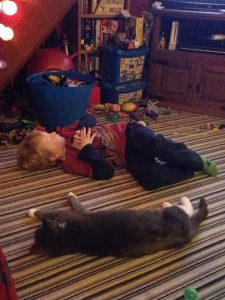 The next morning I found that I wanted to share this very private and profound moment with at least some of the online community with whom I engage. I was stunned by the kind and empathetic responses given, although I'm unsure if I was seeking these at that time –  it just felt right for me to share.
It was tough though, but as I often encourage clients; when journaling thoughts and feelings there is a real connection between writing and the brain when we are distressed, that can help bring about even a little catharsis. It reminds me of the many police and coroners statements I have provided over the years and how until we have recorded, moment by moment, what happened, we come to realise we hadn't really considered the impact on us at all!
Will you share your views? Please try not to differentiate between dogs/cats/goldfish/parrots, etc. Anyone who has loved a pet knows the part of the family that pet becomes and is special ; only really being fully understood by those daily life observers.
What helped?
What didn't?
Any other thoughts?
Thank you for reading and allowing me to share. I hope you might too!
Bob Brotchie is a counsellor, mindset consultant and creator of Conscious Living by Design™. He writes for Anglia Counselling, is featured on various other websites and introduces us to many guest writers all covering topics related to mental health and wellbeing.
Bob provides bespoke counselling services to clients in the privacy and comfort of a truly welcoming environment at his Anglia Counselling company office, located near Newmarket in Suffolk, England. Bob also provides professional online counselling, for local, national, and international clients. The therapeutic models offered are bespoke to the client's needs, especially those in receipt of 'childhood emotional neglect' (CEN), whilst integrating a mindful approach to psychotherapy and cognitive behaviour therapy (CBT) principles. For clients experiencing trauma and/or phobia, Bob offers EMDR (Eye Movement Desensitisation and Reprocessing).