Attempts are under way to raise the profile of support for victims of domestic abuse – and of the recently introduced (UK) "Clare's Law"
You may be wondering what "Clare's Law" is!
It is a facility, by way of an application process for those who are concerned about a partners behaviours – and his or her past.
The process is in some ways similar to the *Disclosure Barring Service (DBS) – employers or volunteer organisations can use in the UK to check on a potential – or current employee and establish unspent criminal records, spent for some roles; and to attest suitability for roles where employee's may come into contact with children or vulnerable adults. (Enhanced DBS)
*Formerly known as Criminal Records Bureau (CRB) checks.
Below, some Information for both national advice – and those local to Suffolk.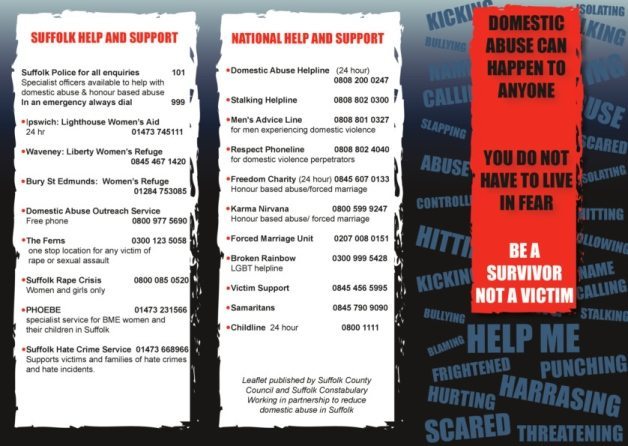 Available to all
The most recognisable aspect of reported domestic abuse that many think of is for the women in society, abused by male partners. It is also important to acknowledge the suffering of the victim/survivor in same sex relationships, both male and female, and of men who are also known to be affected. Each and every one is valued, important and relevant.
Perpetrators and the abused
Support, including psychological therapies, and the logistical, practical requirements can be resourced and signposted for those involved – during counselling.
Difficult as this may seem for many to hear, the abuser also requires support to recognise, address and overcome behaviours that lead to emotional and physical abuse of others.
For both, where at all possible, confidentiality will be a consideration, and will be dependent upon the individual circumstances.
If you are, or have been either a victim, or someone unable to cope with anger and control issues, please do take positive action to end unnecessary pain and seek the help of professionals who can provide you, the individual with a chance of a new chapter in your life.