How would you like to look, and feel, ten years younger for Christmas? Yeah, that is probably unlikely, but what about starting now – for next year?

Gym bunnies need not apply!
Why are gym bunnies excluded? They are often out of balance, or they are temporary in their goals. Just look at the gyms and membership – January = Full and Feb = Half-full!
But I digress!
The BIG Five-Oh!
I have just moved through one of those birthdays that get's us thinking! The 'big' Five-Oh! But not in a negative way. I've just celebrated being here! Whilst my birth certificate confirms I am indeed now fifty, I genuinely feel 40; in fact, better than I did when I was forty!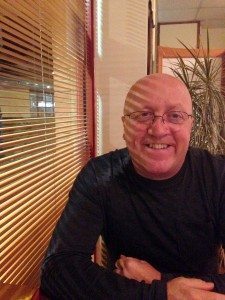 Better still (for any remaining ego I have) – people tell me, without being asked, that I look much younger! *Smiles*
…and just how have I achieved this pleasant place?
Well, it wasn't by pounding the free-weights or treadmill.
It wasn't by denying myself things that make me feel good – even though they might not always be the most healthy option!
It was by…
Thinking more healthily…
Behaving more appropriately…
Is that it? 
Pretty much!
Of course, if we look at the inner workings of 'thinking healthily', and 'behaving appropriately' – they are contained within a lifetime journey of personal growth and development and it all starts as the old proverb states, with a first step.
My first step was in the eighties!
That's when I became so unhappy that I chose to try and find some answers. But it wasn't until 2009, that my first step in the correct direction (for me) was taken – by me! This was when I stumbled upon someone who introduced me to 'mindfulness'. That person was more of a life-saver to me than I perhaps ever was …and now I have become 'the introducer'! (hardly Edward Woodwood, lol)
People may state that I look ten years younger but my life, with quality and greater peace, is only a few years old. For me, that's when my life truly began! We may not be our thoughts, but we can and do become the results of our thoughts.
If I am stressed for long and sustained periods of time, my immune system may shut down during this time. This IS by design! There is little point having an intact immune system draining resources when you are about to be eaten by a predator or attacked by a rival tribe!
Many of us are aware of the term 'immuno-suppressed', but I wonder how many realise this can be fatal? In depression, over longer periods, our brains physically alter (neuro-plasticity). The good news is, it can also be changed back to a healthier state again. Mindfulness is proven to be helpful in this.
So, do you want to feel, look and think younger?
If so, this is another fine saying I enjoy sharing…
"You won't get full reading the menu"!
For more information, or if you wish me to direct you to supporting evidence, simply call or write :-0)
Bob Brotchie is a counsellor, mindset consultant and creator of Conscious Living by Design™. He writes for Anglia Counselling, is featured on various other websites and introduces us to many guest writers all covering topics related to mental health and wellbeing.
Bob provides bespoke counselling services to clients in the privacy and comfort of a truly welcoming environment at his Anglia Counselling company office, located near Newmarket in Suffolk, England. Bob also provides professional online counselling, for local, national, and international clients. The therapeutic models offered are bespoke to the client's needs, especially those in receipt of 'childhood emotional neglect' (CEN), whilst integrating a mindful approach to psychotherapy and cognitive behaviour therapy (CBT) principles. For clients experiencing trauma and/or phobia, Bob offers EMDR (Eye Movement Desensitisation and Reprocessing).