Do you care what the counsellor looks like before booking?
I was intrigued by a discussion within a group on Linkedin this week. A therapist asked if the group thought that publicly displaying a counsellor's image was "tacky or useful"? 
Initially – the consensus was a little uncertain among the primarily US based group members, but gradually, as so often happens once a discussion unfolds the position became more clear.
[bctt tweet="Why would we not have an image on our website, social media platforms and business cards?" username="BobBrotchie"]
From the moment I began planning my business, I knew I was comfortable sharing my less than George Clooney looks; in fact, I was determined I would show people!
You see, my view was that I wanted to give people who are looking at engaging a counsellor – and who came across my details – the opportunity to allow an initial cognitive process to be explored – and with that – some judgement would be likely too!
[bctt tweet="'Ah, Bob looks okay' or, 'Oh, he reminds me of someone – and it's not a great feeling.'" username="BobBrotchie"]
Both these perspectives (and others) are relevant and important to many in deciding whether to put our trust in – and take that leap of faith for what is often seen as highly sensitive in nature.
First Impressions
Of course, the disadvantage may be that if you look at my image and it does remind you of something less pleasant in experience or re-cognition, then that may get in the way of what may become a fruitful collaboration.
But in my view, I am prepared to offer that chance rather than have someone see me in person the first time and feel ill-at-ease!
I can never know how many times someone has viewed an image of me and decided to proceed – or not. Some people are however comfortable enough to share what helped them decide to approach and engage me – and that's helpful for me to measure whether the image I'm using is acceptable to them.
It's not about my ego!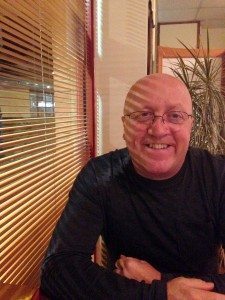 Helpfully, I am highly content with who I am and how I may appear. I have learned to be comfortable with those aspects – so that although I may joke about my silky smooth scalp and non-film/pop/celebrity looks, I really couldn't care less.
What I do care about, is that people have an opportunity to thoughtfully consider – do I feel reassured by this image?
What are your thoughts?
How often do you think you would use the image of a service provider, be they a therapist in counselling or any other personal provision, to determine your decision to approach them?
Maybe you chose due to the therapist being male or female, if so, why? What else has helped you decide?
Please share, comment and let me know what works, what doesn't – for you.
Bob Brotchie is a counsellor, life coach and creator of Conscious Living by Design™. He writes for Anglia Counselling, is featured on various other websites and introduces us to many guest writers all covering topics related to mental health and wellbeing.
Bob provides bespoke counselling services to clients in the privacy and comfort of a truly welcoming environment at his Anglia Counselling company office, located near Newmarket in Suffolk, England. Bob also provides professional online counselling, for local, national, and international clients. The therapeutic models offered are bespoke to the client's needs, especially those in receipt of 'childhood emotional neglect' (CEN), whilst integrating a mindful approach to psychotherapy and cognitive behaviour therapy (CBT) principles. For clients experiencing trauma and/or phobia, Bob offers EMDR (Eye Movement Desensitisation and Reprocessing).